Global Flowers
Global Flowers South Carolina is a division of Hall's Atlanta Wholesale Florist Inc. with a mission to distribute fresh cut flowers and services to upstate South Carolina and northern Georgia. Global is open to the trade only, and requires a valid business license and tax ID number to purchase.
Tim Doyle is the General manager of our South Carolina division. He has an extensive professional history in the wholesale flower industry, beginning with seven years at Hall's in the 1980's. From there he moved to Mosinee, Wisconsin, and was in sales for Krueger Wholesale. After 13 years with Krueger, he returned to spearhead the SC Operation.
Additionally, Chet Dexter, who is also from Krueger in Wisconsin, has joined Global Flowers. Chet is moving to the upstate with 20 years of experience in the distribution of floral products.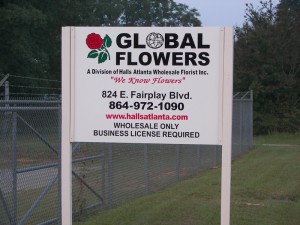 Our newest additions, Lynn Benjamin and Len Palmer, also have years of experience in the wholesale flower industry. Lynne is a native of South Carolina, with over 15 years experience in the floral industry. Lynn covers Seneca, Clemson, and other Oconee County areas. She can be reached by phone at 864.247.9103 or by email at email hidden; JavaScript is required
Len is also a South Carolina native. He can be reached by phone at 864.593.5410 or by email at email hidden; JavaScript is required